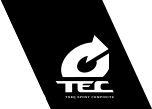 | | |
| --- | --- |
| Dimensions | Volume |
| 5'6 x 19" x 2 1/4" | 26.4 ltr |
| 5'8 x 19 3/4" x 2 3/8" | 29.8 ltr |
| 6'0 x 20 3/4" x 2 1/2" | 34.3 ltr |
| 6'3 x 21 3/8" x 2 5/8" | 38.0 ltr |
| 6'6 x 21 1/2" x 2 3/4" | 41.0 ltr |
| 6'10 x 22" x 2 7/8" | 45.6 ltr |

TEC Range Info

(4.7 MiB)
Description
This board has speed to burn
We love the unrivalled down the line speed of a fish, the easy paddle ability and skate in flat sections. But we love how a shortboard can whip tight turns, go vertical on demand and find speed from tight in the pocket.
So we set out to design a board that can do both – a shortboard with added paddle ability and a fish that can go vertical.
The result took us by surprise – much more than fusing the feel of a shortboard and fish, the synergy of the two concepts generated a board with a whole new capability in the surf. Suddenly sections that would be floater sections became air sections and the dreaded flat spots became open canvases for long swooping turns. This board has speed to burn and a shape that lets you use it!